Surf camps in Portugal - the big guide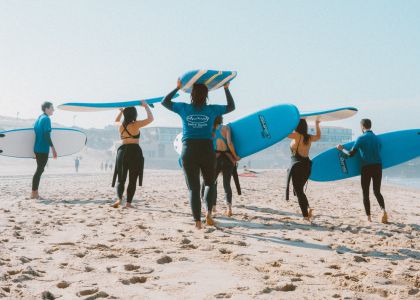 Here you will find our large overview of surf camps in Portugal and about learning to surf in Portugal. For many people, surfing in Portugal is pure freedom. The country also scores with its serenity, friendly people, interesting cultural buildings, good weather and of course the most important thing for surfers, the good waves.
// Find the best surf camps und surf houses!
Why choose a surf camp in Portugal?
The surf camps in Portugal offer ideal conditions for surfing for both beginners and professionals. On the more than 800 kilometers long west coast is a surf region, in which there are good conditions in every season.
Also, who has planned surfing in Portugal in winter, comes at this time of year also fully at his expense. Because then you can go to the south-facing coastal sections for surfing (between Sagres and Faro), which heherher from late autumn and winter over good.
There is plenty of sunshine and waves in the cold season to enjoy our beloved water sports. Most surf camps in Portugal have the advantage of providing guests with a complete package. This means accommodation, meals and lessons. Thus, a surf camp in Portugal is not just for beginners a good choice.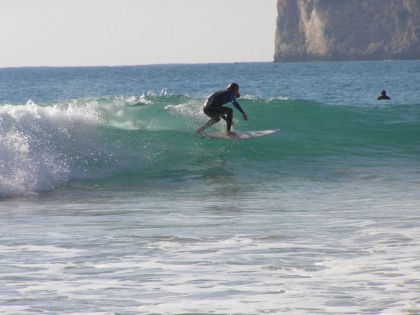 Surf camps in Portugal - the best surfing regions and surf spots
There are many different surf camps in Portugal in different regions. The best locations will be presented in more detail. If you are interested in surfing in Portugal, you are spoiled for choice. Nevertheless, not only the price should be considered in the search for a suitable camp.
Because then it may happen that the teachers are not well trained, the accommodation is dirty or the wetsuits are outdated. If you really want to improve your surf skills, you should choose a surf camp in Portugal, which among other things offers a professional video analysis. In addition, the groups should include a maximum of six students per teacher. Because only then can the latter take good care of everyone and help them.
Overview of different regions for surfing in Portugal
As already mentioned, there are numerous places that are very suitable for surfing in Portugal. The most popular regions will now be presented in more detail.
1. The South (Algarve)
If you think that the south of the country is suitable only for simple vacation packages, is wrong. Because here are also a lot of surf camps in Portugal. In the region around Sagres there is a very mild climate. In addition, the coast is sparsely populated, so the region is very well suited for surfing in Portugal.
In the Algarve there are many different regions where you can surf, but these three are especially beautiful:
Ponta Ruiva
Vale de Figueiras and
Zavial
2. Lisbon and surroundings
Anyone interested in surf camps in Portugal should also consider the region around Lisbon. Because on the one hand it is a very beautiful and varied city and on the other wave surfers get their money's worth.
Just outside Lisbon there are many different surf camps in Portugal offering their services all year round. In less than 20 minutes the tourists can reach many interesting and best suitable spots.
3. Costa da Caparica
South of the Tejo River is the Costa da Caparica. The more than 10 km long row of surf beaches is also very good for surfing in Portugal. The coastline is a bit set back in this region, so that the waves can vary greatly.
4. Peniche
A popular spot to learn surfing in Portugal is Peniche. Here, the athletes can ride on very beautiful waves all year round. In summer, these fall out a bit more gentle than in the winter or fall. Therefore, beginners should visit these surf camps in Portugal best in the warm season.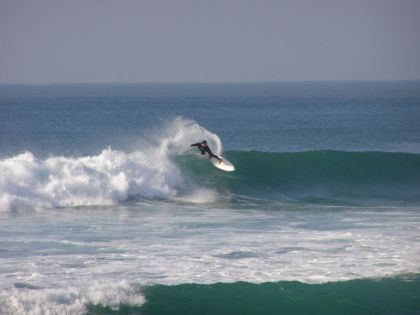 5. Ericeira
As in Peniche, there are also many surf camps in Ericeira in Portugal. Here, numerous schools line up and compete with special offers for the tourists. Anyone who wants calm surfing in Portugal should therefore take a look at another spot. Because just at the beginning it is only annoying when the coast is very crowded.
6. Santa Cruz
Many tourists are looking to learn to surf in Portugal the region near Santa Cruz. Because here are the ideal conditions for the whole year, for beginners as well as advanced.
How much is the cost of staying in a surf camp in Portugal?
Learning to surf in Portugal can be a bit expensive. Because there are many locations and accommodations that are suitable for this purpose. Very practical are the surf camps in Portugal, which offer the holidaymakers a complete package. But first, they first have to reach the country by plane.
A flight costs from most european countries usually not much more than 100 euros. Depending on where you want to surf in Portugal, there are different airports and flight destinations:
Lissabon (LIS, Portugal)
Faro (FAO, Portugal)
Porto (OPO, Portugal)
Ponta Delgada (PDL, Portugal)
Funchal Madeira (FNC, Portugal)
Terceira (TER, Portugal)
If you are planning to travel to Portugal, you may also need to budget for the cost of a rental car. Depending on the season and model, such costs about 50 to 200 euros a week.
Our unique surf trip planner will help you to find the best and most suitable offer for you among the large selection of good surf camps in Portugal.
The cost of the surf camps in Portugal itself can vary greatly. Good providers charge between 300 euros and 400 euros per week. The price includes accommodation, food, surfing lessons and equipment (eg surfboard and wetsuit).
If you want to eat in the evening, you will be pleasantly surprised. Because a visit to a restaurant is generally much cheaper than in Germany.
The climate and water temperature in Portugal
There are over 300 days of sunshine in Portugal every year, so you can fully enjoy your surf vacation in one of the good surf camps in Portugal with its pleasant air and water temperatures.
The following tables show you the average temperature, average hours of sunshine and rainy days, as well as the average water temperature in the different months in Portugal:
| | | | | | | | | | | | | |
| --- | --- | --- | --- | --- | --- | --- | --- | --- | --- | --- | --- | --- |
| | January | February | March | April | May | June | July | August | September | October | November | December |
| max. temperature °C | 14.6 | 16.1 | 18.9 | 19.9 | 22.6 | 26.4 | 29 | 29.2 | 26.8 | 22.5 | 18 | 15.1 |
| ø temperature °C | 11.4 | 12.6 | 12.6 | 14.9 | 18.4 | 21.6 | 23.8 | 24.2 | 22.2 | 18.9 | 14.9 | 12.4 |
| min. temperature °C | 8.2 | 9.1 | 10.9 | 11.8 | 14.1 | 16.8 | 18.5 | 19.1 | 17.6 | 15.2 | 11.7 | 9.6 |
| rainy days | 11 | 9 | 9 | 7 | 9 | 2 | 2 | 2 | 3 | 8 | 10 | 12 |
| precipitation (mm) | 105 | 108 | 65 | 60 | 35 | 20 | 8 | 9 | 30 | 85 | 120 | 110 |
| hours of sunshine (h/d) | 4 | 5 | 5 | 5 | 8 | 9 | 11 | 9 | 8 | 6 | 5 | 4 |
| humidity (%) | 79 | 76 | 76 | 74 | 71 | 70 | 70 | 70 | 69 | 72 | 76 | 79 |
| water temperature °C | 15.2 | 14.5 | 18 | 20.6 | 22.2 | 22.4 | 22.6 | 21.7 | 21.6 | 22.2 | 19.2 | 16.4 |
Share this with your buddies