Surf Blog - Daily Dose
In the Stokers Surf Blog you will get your daily dose of surf. Stories of surftrips, nice surf-videos and of course the latest surf news from all over the world.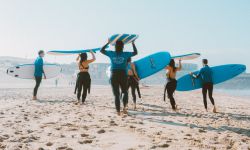 Here you will find our large overview of surf camps in Portugal and about learning to surf in Portugal. For many people, surfing in Portugal is pure freedom. The country also scores with its serenity, friendly people, interesting cultural buildings, good weather and of course the most important thing for surfers, the good waves. // Find the best surf camps und surf houses! Why choose a surf...