Surfing and surf camps on Bali and Lombok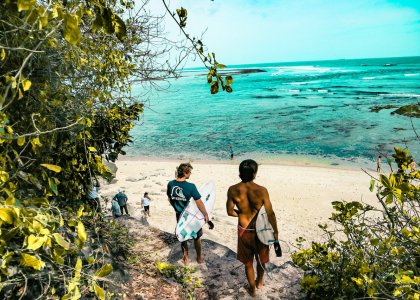 Here you will find a lot of useful information about surf camps on Bali and surf camps on Lombok, one of the beautiful neighboring islands of Bali. Surfing on Bali is an absolute dream for many surfers and rightly so.
What makes surfing on Bali and Lombok so unique?
Bali has a reputation as a unique surfing region. Because here are many very interesting spots, for beginners as well as for professionals. The good thing is that the surfing season on Bali lasts all year, but the high season is from July to September. If you want to learn how to surf on Bali, you do not have to wait until the summer.
Because on the Indonesian island is the whole year round season. For this reason, many surf camps on Bali offer their services. There you can spend the night and eat. So you do not have to worry about it anymore and have more time for the essentials.
Many holidaymakers entering the island for the first time feel like they are in paradise. White sand beaches, crystal clear water and palm trees where the eye is looking. There are also perfect conditions for surfing on Bali.
// Surf camp search for Bali, Lombok and Co.
The surf camps on Bali - and Balis friendly inhabitants
What is immediately noticeable in the surf camps on Bali are the nice and helpful people. In almost all places you will be welcomed with open arms and a nice smile. Unlike many other places on earth, the locals here are very outgoing and in no way dismissive of strangers.
If you also meet them openly, they will always help you with your stay. So you may also show some secret spots for surfing on Bali.
Serenity and friendly people
The many traditions are always respected and maintained on the island despite the ever-increasing influence of the West. Although there is a relatively large difference in wealth between the tourists and locals, there is very little crime. This is another reason that speaks for choosing a surf camp on Bali.
After all, you want to relax on vacation and never come into contact with crime. Even if you can have breakfast in many surf camps on Bali and eat in the evening, you certainly want to eat out with your friends or your family or go out together in the evening.
The restaurants and bars are relatively cheap and offer a lot of regional specialties. At the so-called street-kitchens, a lunch costs only about 50 cents and in the Warungs whole meals cost one to two euros. Thus, the food is much cheaper than in Germany.
Nevertheless, the different foods have a good quality and also taste great. No matter where you choose to dine, almost all dishes are freshly prepared on-site. Frequently, chicken or various seafood is eaten. But also vegetarians are coming not too short in surf camps on Bali.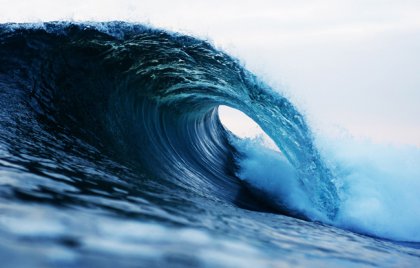 No day without surfing on Bali: better conditions than in Hawaii
If you want to learn to surf on Bali, you have many different spots available. Because on the island there are very good waves at various places, which make the sport possible. Often it is even to be heard that even in Hawaii not so many days a year perfect conditions prevail. Also no European country can keep up in this respect.
In the vicinity of the different surf camps on Bali there are various spots, some of which can even be reached on foot. The necessary accessories you can borrow locally, such as the surfboard or a wetsuit.
Sun and good waves all year round
On Bali, it is never really cold, which you can see among other things in the temperature table at the bottom. This allows you to book a vacation on favorable terms outside the holiday season. If you prefer to spend the winter in the warm, you can surf on Bali in November and December, when it is actually very cold in this country.
The climate can be divided into rainy and dry season. The latter lasts from November to about mid-March. You should pay attention to this when booking the surf camp on Bali. However, that does not mean that you can not surf in the rain. On the contrary, even then there are usually very good conditions.
Partly the rainy weather is even better for surfing on Bali. Because after every shower, it is very often almost windless, so that many athletes even long for rain surfing on Bali.
Surf camps on Bali and Lombok: the best spots
Since there are many interesting surf spots and surf camps on Bali, the most important regions are now presented in more detail. On the island there are mainly so-called Reefbreaks. Therefore, you should get you the right booties. These can also be borrowed in many surf camps on Bali.
On the peninsula Bukit in the south of the island you will find very beautiful beaches and many world-class spots. For this reason, you will meet again and again some professionals of the scene, who meet for surfing on Bali.
Also Uluwatu is absolute highlight among the spots. The wave is very strong there and is therefore more suitable for advanced and professionals and rather less for beginners.
Another perfect surfing spot on Bali is Padang Padang. Even there, the wave is relatively strong and should be surfed only by experienced surfers.
A very impressive picture is the Ngurah Rai airport. Because its runways reach far into the sea and on both sides are special Reefbreaks, to which regular boats go. You should not miss this spot for surfing on Bali.
What should I look for when choosing a surf camp on Bali or Lombok?
As already mentioned, there are many different surf camps on Bali. When choosing a provider should pay attention to different points. If you want to learn surfing on Bali as effectively as possible, you should make sure that there are experienced and best English or German speaking surf instructors. These can explain and teach you the theory and practice very well. In addition, they help you to the side and answer all emerging questions.
Also very important is that the materials (surfboard, wetsuit) have a good quality. On the profile pages of the various surf camps you will also receive additional valuable information on the furnishing of the rooms and the quality of the food. Because there are some very big differences between the different surf camps on Bali.
Another important point is the distance to the beach. It is ideal if you can reach it for surfing in a few minutes on foot. If he is a little further away, the provider should have a shuttle service in the program. Otherwise you would have to get you a rental car, which costs additional money. If you want to relax after surfing on Bali ideal, you should also pay attention to a pool.
Arrival and mobility
Learning to surf on Bali takes place from one of the four major airports Hamburg, Dusseldorf, Frankfurt or Munich. Where the plane makes a stopover may vary from airline to airline.
The prices also vary and depend, among other things, on the season. During the holiday season, you have to pay around 1,000 euros for round-trip flights, but if you're lucky you can also get a ticket for 700 euros.
The climate on Bali
Due to the short distance to the equator Bali has a very warm climate. This means that you will find ideal temperatures for surfing all year round. They average between 30 degrees Celsius and 32 degrees Celsius.
In addition, there are not four different seasons on Bali, such as in Europe. But there are months in which it rains a lot through the so-called northwest monsoon and other months in which it is dry for a long time.
Climate table for Bali
The following climate table shows you the average temperature, rainy days per month, hours of sunshine, as well as the water temperature at different seasons.
| | | | | | | | | | | | | |
| --- | --- | --- | --- | --- | --- | --- | --- | --- | --- | --- | --- | --- |
| | January | February | March | April | May | June | July | August | September | October | November | December |
| max. temperature °C | 31 | 31.2 | 31.1 | 31.2 | 30.7 | 30.1 | 29.3 | 29.4 | 30.2 | 31 | 31.5 | 31.1 |
| ø temperature °C | 28 | 28.1 | 28.1 | 28 | 27.5 | 27.1 | 26.5 | 26.4 | 26.9 | 27.7 | 28.3 | 28.1 |
| min. temperature °C | 24.9 | 24.9 | 24.8 | 24.7 | 24.2 | 24 | 23.6 | 23.3 | 23.5 | 24.4 | 25 | 25 |
| rainy days | 17 | 15 | 11 | 8 | 5 | 4 | 4 | 2 | 2 | 6 | 10 | 16 |
| precipitation (mm) | 191 | 136 | 102 | 66 | 22 | 15 | 13 | 1 | 10 | 31 | 53 | 131 |
| hours of sunshine (h/d) | 2 | 2 | 2 | 2 | 2 | 4 | 4 | 5 | 4 | 5 | 4 | 2 |
| humidity (%) | 82 | 83 | 66 | 83 | 83 | 82 | 82 | 82 | 84 | 84 | 82 | 81 |
| water temperature °C | 20.7 | 21.4 | 21.7 | 21.2 | 21.9 | 20.7 | 21.1 | 21.3 | 21 | 21.1 | 21.2 | 21.4 |
The surf camp search for Bali
You can find the best surf camps on Bali, Lombok and the other beautiful neighboring islands with our worldwide interactive surf camp search. With the many different search filters, you can narrow down your surf camp search to your individual needs.
// Go to worldwide surf camp search
Share this with your buddies